A house made of "garbage"
The recycling house
Former sauna benches decorate the entrance. Bottle caps act as a mosaic substitute. Disused jute sacks serve as facade insulation. Historic bricks, recovered when demolishing an old barn, create Mediterranean flair as an interior wall. Discarded plastic-coated chipboards, which were part of a trade fair stand in the first life, were installed in wall and kitchen cabinets. And on one part of the room doors, the advertising message of a trade fair construction customer is denounced in a loud cyan. A collected pile of "rubbish", from which Germany's first and only recycling house grew out of on the Kronsberg – according to the designs of architect – Nils Nolting/Architekturbüro Cityförster and on behalf of the construction company Bau- und Wohnungsunternehmens Gundlach.
An experimental pilot project in which material has been replaced by intelligence and to which Hartmut Zeissig and his trade fair construction company contributed a great deal of "filler": wooden components of exhibition stands, which are usually shredded, then stored in silos, and then burned in the winter months, and thus replace fossil fuels – that's not bad, but a true recycling is more sustainable in any case. And that is exactly the central theme at the recycling house.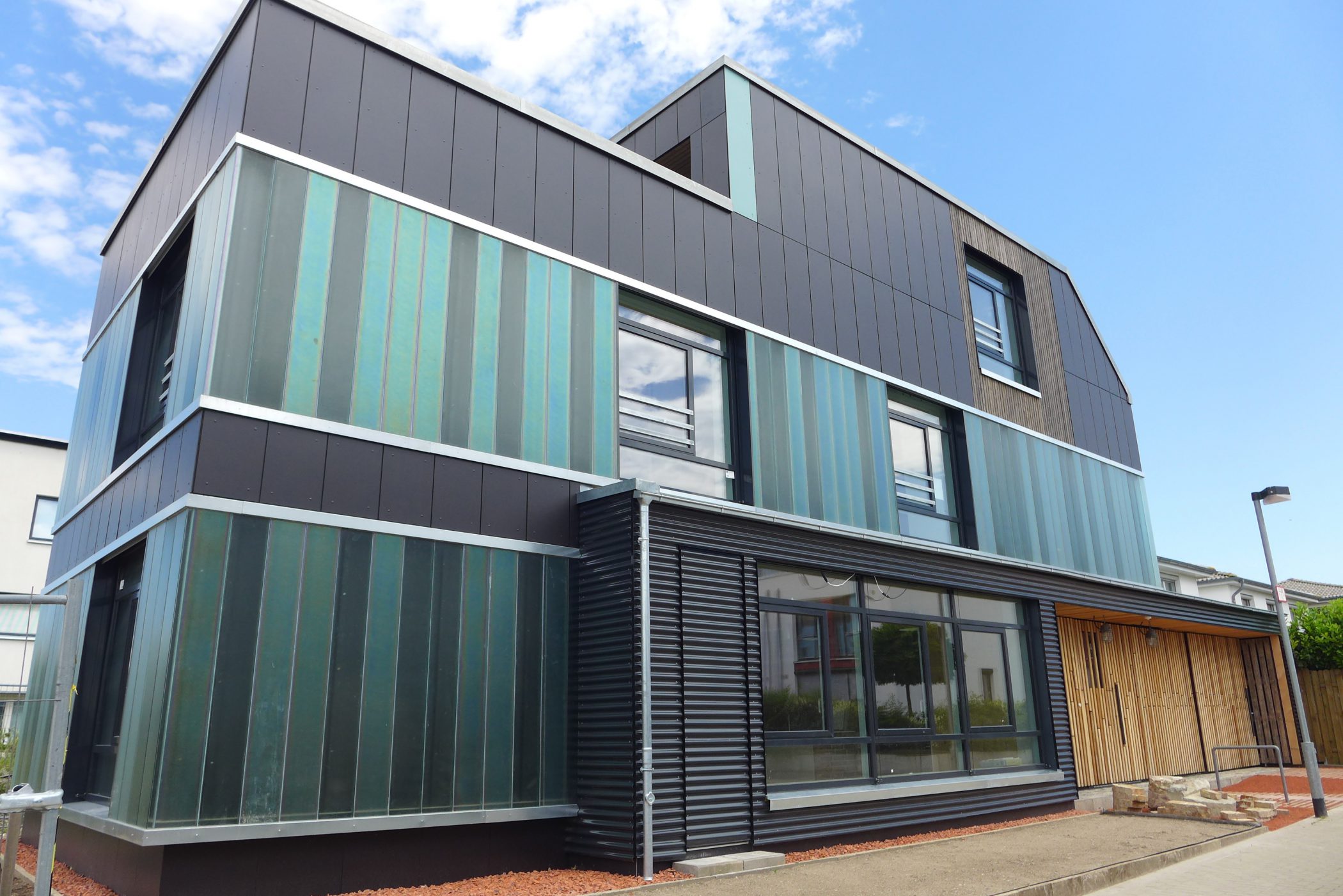 The construction industry is a large waste producer and resource user. In the energetic consideration, only the energy consumption in everyday use is considered, never the overall balance, which starts with the manufacture of the building materials and ultimately ends with the demolition of the building. The 160 sqm single-family house made of recycled material is completely removable, because the massive plywood panels are completely glue-free screwed to wall elements. As an applied research project, the building thus contributes to the discourse on sustainability and to the debate about a resource shift towards urban mining. Also, the fair construction is still known as a disposable industry. In many cases, entire exhibition stands are disposed after the show. At an early stage, Zeissig began to address the throwaway culture of earlier years through an innovative exhibition architecture based on reusable, modular components and to manufacture multi-use rental trade fair booths in modular form for customers. Nevertheless, there are always leftovers and components are eventually discarded. Architect Nils Nolting speculated on this when he turned to Zeissig.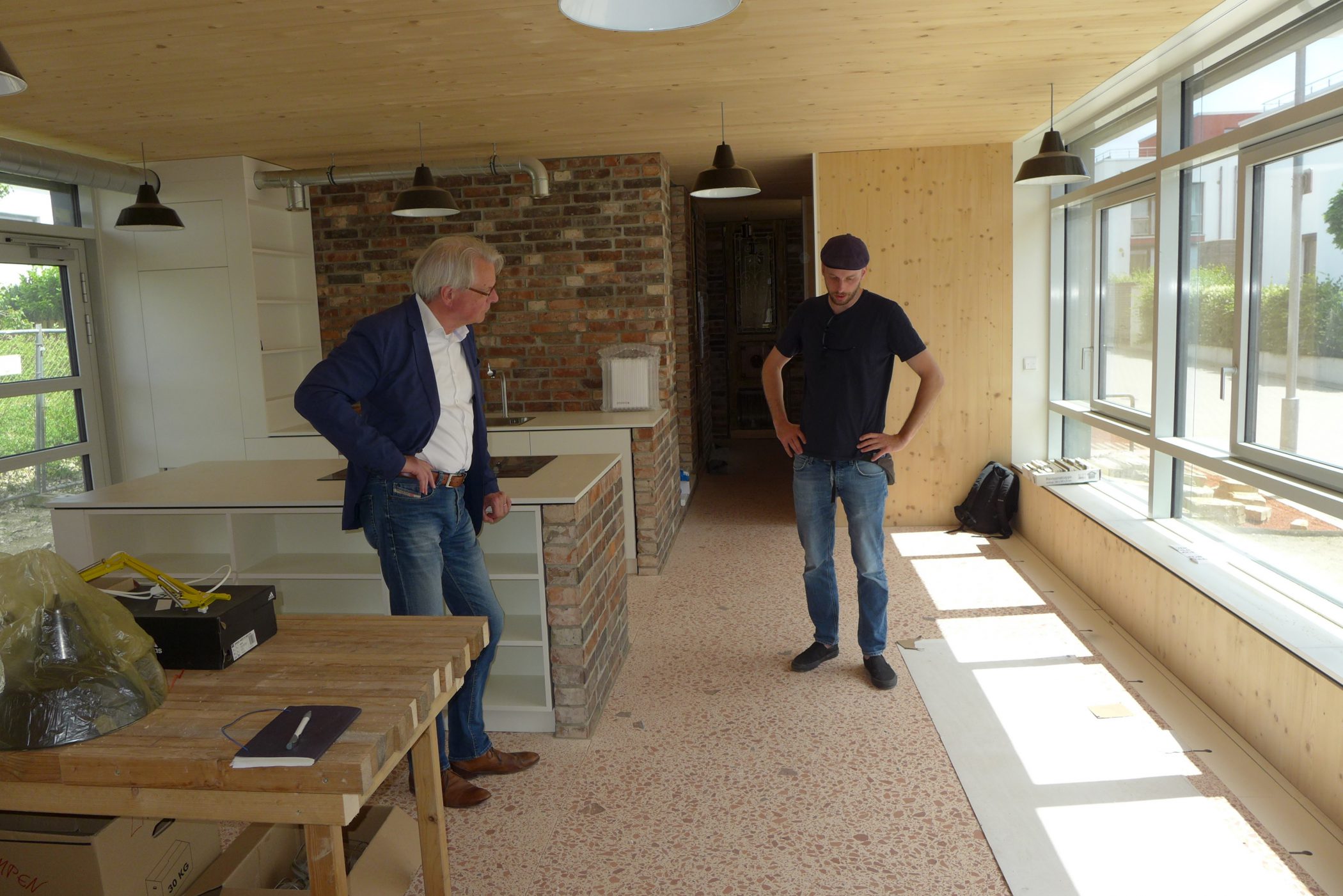 "We scoured our warehouses and contributed numerous materials to the project as recycled building materials," says Hartmut Zeissig. The plastic-coated chipboard, which was now used as wall paneling, window reveal and as furniture construction material, used to be the back wall of a trade fair stand. Polysterol glass plates from trade fair construction became bathroom mirrors. And water-resistant floor tiles were used as a substructure for the floors. Originally, the house was supposed to be built a 100 percent from recycled materials, except for the technology – but that did not quite work. Which is why parts from overproduction were used that otherwise would have gone into the trash. In 2015, Gundlach decided to launch the unusual project to prove that it is possible to turn "waste" into an energetically and architecturally trend-setting building. Construction began in 2018 and was completed in June 2019. At the beginning of July, a family moved in, renting the house for a longer period.